Providing rentals, sales, inspections and training for the lift industry.
Crane Rentals – Proudly offering the crane you need to get the job done right.
Construction Hoist Rentals – Versatile equipment options to meet the needs of every project.
Inspections – Our highly qualified team of inspectors work thoroughly and efficiently to save you time and money.
Training – Offering programs designed to kickstart or accelerate a career in the lift industry.
Underhook Attachments – Be more efficient with the use of underhook attachments.
Getting started is easy
1. Request a meeting
We will work with you to find the right solution for your project.
2. We recommend solutions
We will ensure you have the right equipment that meets OSHA industry standards and safety regulations.
3. Satisfaction
Feel good about a completed project and knowing our team has your back.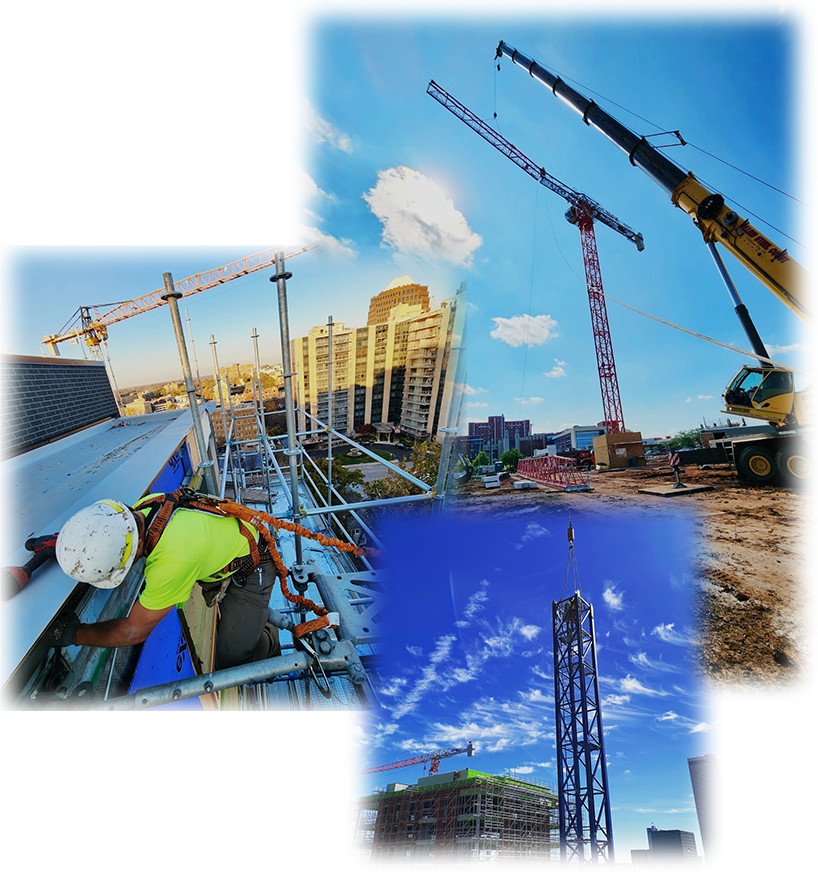 Associated Builders and Contractors of Oklahoma
Greater Oklahoma City Chamber of Commerce
Glenpool Chamber of Commerce
Better Business Bureau
National Commission for the Certification of Crane Operators
Specialized Carriers and Rigging Association
Crane Rental
We offer equipment for every project. Self-Erecting Cranes, Low Top/Flat Top Cranes, Luffer Cranes, and more are available to help with your lifting needs.
Hoist and Elevator
Construction Hoists, Transport Platforms & Elevators of various capacity to tackle any project.
Underhook Attachments
Providing our customers with specialized equipment, our experts can help you choose the attachments that will make your job a breeze.
Crane Inspections
Mid-Continent Crane inspects all types, makes and models of manufactured cranes and equipment through point-by-point inspection of electrical, mechanical, and structural components.
Training Solutions
Receive training from our expert instructors and get NCCCO Certified. Classroom instruction is combined with practical applications.
Lift Planning
Lift planning encompasses risk assessments, methods, drawings, and site-specific schedules and outlines everyone's roles in the lifting operation so that the job is executed safely and successfully.
I have worked in the Wind Turbine Construction Industry for 15 years and have worked with a lot of different crane companies. The first time I called Mid-Continent Crane, I needed a 3rd Party Inspection as soon as possible. The Mid-Continent Crane Inspector was on-site the next morning. After talking with the Inspector, I realized he didn't come from just up the road but had to take a Red-Eye flight to get to our job site to help us keep our schedule. Since that first call to Mid-Continent Crane and seeing firsthand how far they will go to help their customers, I have always called them first. With their dedicated Inspectors, Justin, Matt, Tony, and Austin, I have never needed to make a second phone call to another company. Because the Inspectors at Mid-Continent Crane do such a meticulous job with documentation, it eliminated our company from having to pay for any issues the crane had when it arrived on our job site. Mid-Continent Crane's dedication and professionalism make it easy for me to give them a 5 Star rating.
Don L.


PHYSICAL ADDRESS
1735 US-75
MOUNDS, OK 74047
MAILING ADDRESS
P.O BOX 411
MOUNDS, OK 74033